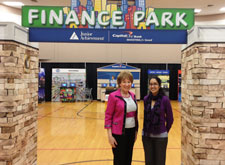 Getting Acquainted
Harriet Meyerson gets a tour of Junior Achievement's Finance Park from Dhriti Pandya, Senior Development Manager of Junior Achievement in Dallas, Texas.
Dhriti encouraged me to volunteer at Finance Park. A one-day commitment was easy to fit into my busy schedule.
As a former teacher, and now an entrepreneur who promotes teen and workplace leadership, I was excited about working with youth to help them become more financially responsible.
Every school day a different group of approximately 80 students go to Junior Achievement's Finance Park, so there is a lot of need for volunteers.
Students are encouraged to share their experience with their parents.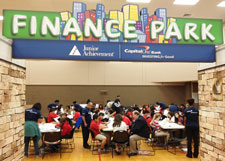 Students are Assigned a Family Scenario
At the Finance Park, Middle school students learned to create a budget.
Each student was assigned a different "pretend" family scenario that they have to budget for such as:
* A married man with an annual salary of $52,000 and 2 children,
* a single parent with an annual salary of $31,000 and 1 child, etc.
Each volunteer was assigned a table of 5 students to help. (My table had four boys and one girl.)
Students were equipped with calculators and budget forms, a pencil, and the most important thing - an eraser so they could rework their budget when they spent too much.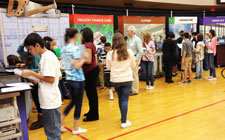 Students Create Budgets and Buy Household Needs
First, students went into the Finance Park to get a form for each household expense with choices suited to their family scenario.
Then they went back to their tables to create the budget for their assigned family scenario.
Then they returned to the Finance Park to "purchase" household needs.
Each kiosk features a different household expense. Students budgeted for a house, car, insurance, groceries, dining out, clothing, entertainment, utilities, home improvement, charitable giving, savings, etc.
It is an eye opener as students realize all the expenses that go into living an adult life.