Heather was an aspiring leader in her mid-twenties. She was responsible for the daily outgoing mail for a group of executives at her company. It was important that the mail be processed quickly and accurately. It was a big responsibility...and she wanted to make a good impression.

She was frustrated that the outgoing mail requests were just dumped on her desk every day full of misspelled words, wrong addresses, typos, etc. This meant that she had to retype letters, look up correct addresses, correct spelling, decipher memos and compose letters. There was no system--no structure!

So, Heather worked late quite often. She was so frustrated and wanted to change the outgoing mail system, but she was afraid to say anything to the executives.

So she registered for our Self-confidence Seminar hoping it might help her communicate with the them. The seminar was to be on Saturday morning...too late to salvage her Friday evening plans, but maybe she could learn something that would save her sanity!

Heather found the courage to overcome her fears about talking to the executives from the strategies she learned at the seminar. All night long thoughts kept running through Heather's mind. She was not going to let her fear stop her! She thought about how she might accomplish the scary mission of approaching the executives.

Heather decided she would formulate a system for the outgoing mail and put it in writing. Heather was shaking in her shoes as she showed the protocol to her supervisor.

"Will I be fired if I pass this directive out to the executives?" Her supervisor looked it over and said, "It looks good to me. Go for it!"

It wasn't long before she received response from the executives, and it wasn't at all like she expected. Several of the executives came to her saying,

"Thank you for writing the list of protocols. We had no idea that we were causing so much trouble."

"This is very well thought out. Thanks for caring about our company."

But the "grand prize" came when the Vice President of the company came to her and said,


"I heard that you improved the outgoing mail system. That shows real leadership potential. I'll make a note of that and keep you in mind when there is an opening for a leadership position."

---

(The seminar that Heather took was our Secrets of Self-Confidence which is included in this self-study Leadership Confidence Course.)
1. Would you like to inspire your team... with confidence?

2. Would you like to motivate your employees... with confidence?

3. Would you like to face difficult conversations... with confidence?

4. Would you like to deal with workplace conflict... with confidence?

5. Would you like to handle difficult projects... with confidence?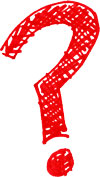 Your employees can not only see when you are confident, they can also feel it. Acting confident is essential because people will not believe in you if you don't act like you believe in yourself.
As a leader, you have many mountains to climb, and, what's more, you have a tribe that you have to lead safely down the mountain, choosing the right path that avoids the trees, rocks, and dangerous cliffs.
You want your followers to have enough trust in you to follow you down the path to safety and success.
Don't worry, You can learn the secrets of how to act confident, even when you don't feel confident. When you know these secrets, even if you feel terrified inside, you can appear confident on the outside.
I was standing at the top of what seemed to me to be Mt. Everest with Janis, my ski instructor, after getting off the chairlift. In reality, it was only the Bunny Hill in the beginners ski area. But, I was petrified with fear of heights, fear of speed, and fear of loss of control. I remember saying to myself,
"If I ever get down this mountain, I am never going on a chairlift again." I was definitely not confident - I was terrified!
Luckily - Janis, my ski instructor took me by the hand and not only led me down the ski slope, but also taught me the skills I needed to learn to develop a love of skiing. She made all the difference.
On that day I discovered that becoming the confident person I wanted to be took courage and the help of a confident leader that I could trust. I never would have taken a second lesson if I didn't have confidence in my instructor. During the many lessons that followed I grew in confidence, not only on the ski slope, but in all areas of my life.
Because of her leadership, I enjoyed may years of wonderful family ski vacations. This would not have happened if I didn't have a confident leader.
Working with many types of personalities and motivating them to succeed can be a lot more challenging than learning to ski.
When employees are difficult...
When they are not on board with your program,
When they don't work as a team,
When they have negative attitudes,
Or when they are unmotivated,
it can cause you many frustrating days and sleepless nights. Just like a skier, to face your challenges, you not only need leadership skills, you must have confidence.
Many people say, "As soon as I get confidence then I will (do that one thing I most want to do...)"
That's the myth!


The truth is you must practice doing something before you are confident in doing it. Then, as you get more proficient, you will grow in confidence.
Think about it...
Athletes who want to be great need to exercise every day to build their muscles and their skills. They don't just exercise one full day, and then become strong forever. Building confidence is the same.
That is why we developed a special combination course so you can build your leadership skills and your confidence in bite size pieces, one step at a time. The good news is that each step you take will make you feel and act more confident.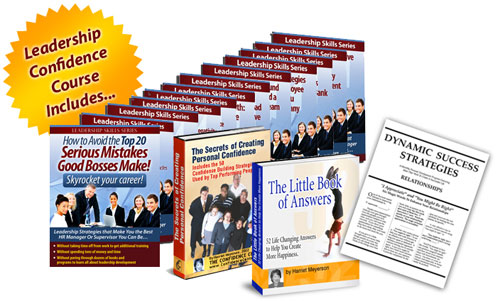 ...Gets up in the morning looking forward to the day's challenges

...Has the respect, cooperation, and trust of your team so they do what you want them to do.

...Knows how to build your employees' confidence so they also perform better.

...Knows how to handle difficult employees so relationahip problems are avoided.

...Goes home smiling
Good news...
You will be amazed at the results you will see even as you begin the process of practicing your confidence skills,
and with each success you will become more and more confident.

The magic ACT formula that you can apply to any situation to make you feel, look, and act confident fast. This simple 3 step process is easy to remember and use.

7 ways to get the courage you need to act confident in spite of your fears.

11 strategies you can use every day to feel and look confident instantly.

12 simple activities to help you and grow in confidence day by day.

A complete step-by-step process to set goals and keep yourself motivated to achieving them.

52 Weekly Personal Happiness Exercises that will help you balance your work and personal life.

12 Monthly Success Strategies to practice each day of the month that will build your confidence and become a natural part of your personality.

Plus much more...
Each month you will learn how to deal with difficult workplace situations with both confidence and professionalism. The 12 Leadership Skills Lessons are:
How to Avoid the 20 Serious Mistakes that Good Bosses Make
Low Stress Secrets for Dealing With Workplace Conflict
Optimism: The Secret to a Positive Workplace Atmosphere
Humor: Getting Rid of Workplace Negativity is a Laughing Matter
Gossip: How to Survive a Workplace Where Rumors Run Rampant
Multi-tasking is a Myth: 10 Tips for Effective Task Switching
8 Ways to Cut Down on Information Overload and Be More Productive
How to Hit the Ground Running and Build a High Performing Team
Relationship Strategies that Create Employee Loyalty for You and Your Company
How to Retain Your Best Employees Without Breaking the Bank
How to Get Excellence, Consistence, and Ongoing Improvement from Your Employees
12 Monthly Success Strategy Lessons help you develop personal and professional confidence.
Each lesson has 4 pages, including a page to set your goals for the lesson and record your progress. They are in bite size pieces so that you are not overwhelmed. As you practice each strategy, it becomes natural and easy for you.
(* You can also teach these to your employees to help them build their confidence.)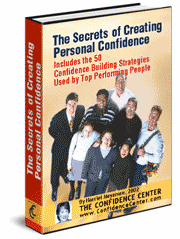 Build Your Leadership Confidence in Spite of Your Fears
This ebook reveals the secrets of creating your own confidence. It is extremely practical and easy to follow, and its principles can be adapted to suit anyone and any situation.
Sample page.

Lesson + exercise
52 Weekly Lessons that build confidence, create happiness, and balance work and personal life.
Each bite size lesson is only one page long and has an exercise to use as your weekly confidence building goal. (*You can also use these with your employees to help them build their confidence.)
How to Set & Achieve A Goal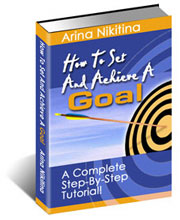 A Complete Step-By-Step Tutorial
How To Set And Achieve A Goal will guide you step-by-step from creating and setting your goals to motivating you to complete them. It has 9 goal setting forms to keep you organized and motivated.
6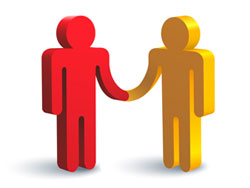 1 Individual 30 Minute Telephone Leadership Confidence Strategy Session
Ongoing email support - Your questions answered within 48 hours.
Confidence is so important that we don't want to leave it to chance. That is why we are giving you a 30 minute telephone strategy session. We will discuss your unique situation and map out your self-study program.
In addition, whenever you have a question or situation that you don't know how to handle, simply email us and we will respond within 48 hours - usually sooner.
When you complete the course, email us for instructions on how to get your Certificate of Completion.
Buy now... or continue reading
---
Additional resources that you will find useful in many ways.
| | |
| --- | --- |
| | This audio addresses building confidence in teachers, but it applies to any supervisor or manager who wants to build employee confidence. |
An interview with author, Sam Horn by Harriet Meyerson. Sam Horn is the author of:

Tongue Fu - How to Deflect, Disarm, and Defuse Any Verbal Conflict

Concrete Confidence: A 30-Day Program for An Unshakable Foundation of Self-Assurance

What's Holding You Back?: 30 Days to Having the Courage and Confidence to Do What You Want, Meet Whom You Want, and Go Where You Want
Simple Tips for Happiness and Success in 5 Key Life Areas:

Build Your Personal Life
Physical Health
Financial Wealth
Career You Love
Exciting Social Life
| | |
| --- | --- |
| | Easy, fun, and healthy ways to lose weight both at work and at home! These simple tips will get you slim and trim without depriving yourself of delicious food. |
We will be adding more benefits to the Leadership Confidence Course, and since you will get lifetime membership, you will get added value through the years. We'll send you an email whenever we add a new bonus. Even if the price goes up, you won't have to pay any more. So, buy now to save money.

or continue reading...
You Get Instant Access
There's no waiting because everything is downloadable. As soon as you place your order, you may download all of the materials and can start using it today in the comfort of your home, or in your workplace, whenever it's convenient for you.
What's more, you will have lifetime access to the materials. So, if your computer crashes, or if you lose your documents - no problem - just login to your member page and download them again.
How much does the Creating Confidence Course cost?
Investing in yourself is the very best investment you can make

A leader sets the example for others to follow. You want to be the best example you are capable of. The more you invest in yourself, the more you are investing in your staff, just by your example. A more confident and skilled "you" will not only teach new skills by your example, it will inspire your staff to higher levels of cooperation, motivation, and confidence.

Now, a Question for you. How much is your lack of confidence costing you?

What are you procrastinating doing because of doubts or fears?

What success are you leaving behind because you don't feel confident enough to pursue it?

What difficult workplace situations are you avoiding because you lack confidence?

Think about it, it will cost you a lot more NOT to build your confidence and your leadership skills.

That's because if you keep doing things the way you are doing them, you will keep getting the same results. This powerful course will lead you step-by-step down the path to leadership confidence.
Respect and Admiration from others

Just think about it. Don't you admire the person who stands, walks and acts with confidence? Wouldn't you like to be that person that others admire?

Cooperation from employees

When you learn the leadership skills of communicating effectively and dealing with difficult employees, you will gain the respect and cooperation of your staff.

Feeling good about yourself

The best part is that you will feel better about yourself. You will gain courage and leadership skills. Together they will give you the confidence that will make you feel good about yourself and your ability to handle any situation that comes your way. Confidence will make all the difference.

Advancing in your career.

Will more skills and confidence help you get a promotion? How could it advance your career? Is that worth a small investment in time and effort.

1. Leadership Skills Series - 12 Monthly Lessons - (valued at $297)

2. The Secrets of Creating Personal Confidence ebook - (valued at $47)

3. How to Set and Achieve a Goal ebook - (valued at $37)

4. Little Book of Answers - 52 Weekly Confidence Exercises ebook-(valued at $97)

5. Dynamic Success Strategies - 12 Monthly Lessons in pdf - $197

6. One 30 minute private telephone strategy session - $150

7. Lifetime email support

8. Plus 4 bonuses worth over $100

But that's not what you will pay...

After our introductory offer is over, our Regular price will be $497, which is pretty reasonable for all the resources you get. But, that's not what you will pay...

That's about 80¢ a day for a years worth of lessons and a private phone session that will help you create the confidence you need for leadership success. This truly is an investment you cannot afford to pass up. And there's no risk to you. See our guarantee below..

Absolutely No Risk 100% Lifetime Money Back Guarantee

Buy the Leadership Confidence Self-Study Course and even use it for as long as you want. If you are not delighted with the results you will be given a full refund. No Questions Asked! You can even keep the materials.

There is simply NO RISK in making this decision.
No waiting for the mailman to deliver your materials, because they are all downloadable. Don't procrastinate. Place your order now while you can still get the introductory offer!

Or click here to get the Leadership Confidence Course as part of our
Gold "All-In-One" Employee Morale Center Membership.

You may pay by credit card on line, or email usa purchase order and pay by check

Remember, your lack of confidence may be costing you a lot of frustration, sleepless nights, stress, and yes, also money. The adventure of building your confidence will be a thrill better than any amusement park roller coaster. It will be the thrill of becoming the best that you can be, and then leading your employees to be their very best.
What's more, your new "more confident self" will earn the admiration of your staff and will be noticed by your company's leaders.
Don't waste another minute. Invest in yourself now!

To purchase these products individually click on =>