For Managers and Supervisors who struggle with employee problems:

Imagine If You Could Transform Your Staff into... Extraordinary Employees:

Or... Read the page below for all the details.

| | | |
| --- | --- | --- |
| | | |
No More...
team members blaming each other
lack of attention at meetings
unnecessary workplace stress
... And Other Employee Problems Affecting Productivity, Morale
And Job Satisfaction.
Every day is a challenge in today's workplace

With these tough economic times, many companies are downsizing, and fewer employees are left to do the same workload.

No wonder employees are overworked and stressed to the limits... leading to negativity, lower productivity, and tanking company profits.

Does Your Workplace Suffer From These Top 15 Employee Problems?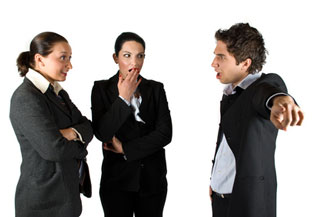 We polled HR managers, supervisors, team managers and business owners just like you. They told us that the most pressing workplace problems they're experiencing are:

1. Employees not being able to work together in harmony
2. Bad feelings among employees due to gossip
3. Petty employee complaints
4. Lack of cooperation between employees
5. Employees procrastinating, leaving the rest of their co-workers to finish their work
6. Miscommunication or lack of communication
7. Email taking the place of interpersonal contact
8. Staff who are not team players
9. Employees getting overly stressed out, or unable to deal with every day stress in the workplace
10. Poor customer service
11. Inefficient work systems
12. Meetings that are not focused, take too long and don't bring results
13. Lack of active participation in meetings
14. Too many tasks and not enough time to accomplish them promptly and accurately
15. Unprofessional behavior

If you're like most companies, your workplace is also struggling with similar issues. Rest assured, you're not alone.

The bad news is, these problems are costing your company a lot of money and probably giving YOU sleepless nights.

The good news is...

We have the solution!
"YOU" can be the force that turns the tide in your workplace and gain the respect and admiration of your staff. Instead of the problems above, you can have:
Staff who are motivated even during difficult times
Staff who work together and get along with each other
Employees who provide "Knock Your Socks Off" customer service
Employees who manage their time efficiently and don't procrastinate
Better communication between employees and between management and staff
Employees who respect co-workers with different backgrounds or cultures
Employees with positive attitudes and who speak in a positive manner, no matter what the circumstances
Employees who follow through with actions decided at meetings, rather than just paying lip service to them
Employees able to handle stressful situations with grace
Highly productive employees

What if you could bring these changes to your workplace -- with an investment of less than an hour a month?

Turn Your Workplace Around - A Piece of Cake!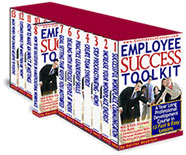 You can do it with the Employee Success Toolkit!
The Employee Success Toolkit has everything you need
to lead transformative sessions for employees in your workplace.

<--

With this comprehensive toolkit, you'll have at your fingertips:


A
ready-made curriculum
to develop 13 critical skills (see list below) to increase productivity, improve communication, boost employee morale, and create a happier workplace.

I personally consulted the top experts to create each of the lessons with the skills every employee needs to succeed.

Each lesson is easy for both your employees to understand and for you to use.

The 13 Critical Lessons
1. Successful Workplace Communication

2. Increase Your Workplace Energy

3. Stop Procrastinating - Now!

4. Create Team Synergy

5. Practice Leadership Skills

6. Dealing With Difficult People at Work

7. Goal Setting That Keeps You Motivated
8. How to Be Successful in a Multicultural Workplace

9. Active Listening

10. How to Thrive in a Stressful Workplace

11. How to Make an Impact at Meetings

12. Customer Service that Makes Them Say, "Wow!"

13. Magic Words that Change Negative to Positive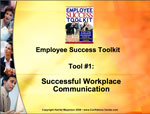 All the

materials you need to successfully present and teach

each lesson in a powerful, engaging and effective way. Ready-made Powerpoint presentations make each lesson dynamic and a snap to present.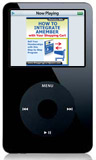 13 lessons in

multimedia formats

-- print and audio -- so you can effectively transform co-workers no matter what their learning style. Crossword puzzles for each lesson keep them fun, engaging and, most importantly, memorable. The audio for each lesson can be accessed, either on a computer with Internet connection, or downloaded into participants' mobile devices. They can listen to the audio while commuting to and from work.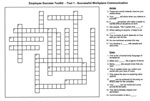 Support materials for your participants

to remember the key points of each lesson, set goals for putting lessons to practice, record their progress on the goals, and reinforce key learnings. Written lessons, quizzes and forms help employees learn and remember the skills.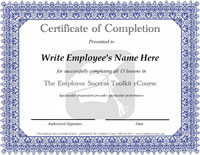 Printable forms

such as notebook cover graphics, employee checklists, employee roster, and certificate of completion, to help you organize your work and keep employees motivated to finish the program.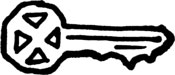 L

ifetime access

to the members' download page - you can access the materials anywhere, as long as you have a computer with an Internet connection. Never worry about losing files or copies ever again.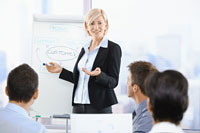 License to use the materials on anynumber of employees

, so you can use the program on different groups of employees and keep using it even if you change employers.
Each lesson in the Toolkit is

short, concise, and practical

. Training sessions can be

as short as 30 minutes

every two weeks. If group training isn't possible, each participant can go through the lessons at their own pace.



A few minutes every two weeks is all you need to have more positive, productive, and happier employees!



Plus, to make sure you have everything you need to succeed in transforming your workplace, we're also including the following:



Bonus 1 - Additional Forms ($97 Value)


In addition to the printable forms already in your Toolkit, you'll also get additional forms, such as the Employee Agreement (to get participants' to buy into the lessons), Pre-Lesson Questionnaire (so you know where your participants are starting from), and Course Evaluation (to get feedback from participants, which you can use to improve future sessions).



Bonus 2 - Employee Success Toolkit Presenter's Guide ($100 Value)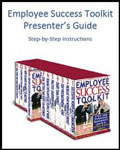 This guide explains each of the materials in the toolkit, and gives you step-by-step instructions for using each form, as well as presenting each lesson. It will show you how to:
• Customize the format to fit your organizaton's structure
• Keep organized so you don't forget anything
• Keep your participants accountable so they actually use their new tools in their jobs.


Bonus 3 - Overcoming the Fear of Public Speaking ($70 Value)

This special report will help you deliver powerful and dynamic presentations even if you have fear of speaking to a group. It is customized to the Employee Success Toolkit and willt:
• Transform your stress and fears into excited expectations
• Engage participants and keep their attention
• Build your speaking confidence and give you the resutls you want.


Bonus 4 - Free Lifetime Email or Phone Support ($500 Value)

After you purchase the Toolkit, you will have unlimited support through email or phone. Use this to ask any questions about implementing the lessons. If anything stumps you, no worries. We're only an email message or phone call away.


Bonus 5 - How to Avoid the Top 20 Serious Mistakes Good Bosses Make ($30 Value)

You may be doing everything else right but if you are making any of these 20 serious mistakes you may be sabbotaging your efforts. What's more, you may not even realize it.
This in-depth report explains how good supervisors and managers slip up, and what you can do about each of the 20 mistakes. This is a special report for managers and supervisors that you won't want to miss.
Free Bonus 6 - Video interview with Joyce Weiss "How to Transform Workplace Conflict into Workplace Harmony"($90 Value)

Have you ever had an employee whose negative behavior caused conflict and stress in what otherwise would be a wonderful place to work.
Joyce Weiss, CSP, has been a conflct resolution consultant for over 30 years. She will give you specific words to say in those tough conversations that you just can't avoid any longer. She will share some of her best conflict resolution tips with you. Tips and strategies you can use immediately to
Her motto: "You get what you tolerate."





or continue reading...


Let the HR managers and supervisors who've been using the Toolkit to tell you about the

results they've gotten

:


More Tolerance and Confidence


I purchased the Employee Success Toolkit to assist me with employee training workshops. I am using it to train my employees and build teamwork and confidence. I have noticed a lot more tolerance among coworkers and more confidence in decision making.

Kimberly A. Wojtkowiak
Director of Human Resources
AJ Stairs Inc.

A More Professional and Productive Atmosphere

I purchased the Employee Success Toolkit to facilitate to my managers. We did a group training once every two weeks.The material was new, and I liked the format and consistency with the schedule. I feel that it has created a more professional and productive atmosphere.

Denise Fuller
HR Manager



Our Biggest Benefit Is... Communication, Communication, Communication!

The toolkit has been very beneficial in developing my team. We are taking a little more than the suggested time per lesson, specifically the first lesson on communication. This was an area that had several opportunities for us to improve, therefore, we made sure we spent "extra" time on the topic.

I am a supervisor for a group of 10 coworkers that are in a role they took on so they can develop towards a supervisory position. The toolkit seemed like the perfect tool to allow us to commit to consistency amongst our group as well as provide interactions that make us a more cohesive team.

We discuss the lessons in our team meetings and in one-on-one sessions each month.

Our biggest benefit is... Communication, Communication, Communication!!!!

Since we spent some time on this topic, we are doing a much better job keeping each other informed, the group feels more comfortable approaching and addressing concerns with each other, and are gaining the self-confidence they will need when managing their own teams.

Thanks for such a great resource!!!!

Lori Easter
IKEA
And now let's see what the

participants themselves say

:

Dealing With Difficult People

"I now have the tools to get to the root of the difficult behavior. I now know that difficult behavior is not directly intended to target me, and I have stopped taking it personally. Over the past few weeks I have had several cases where I have had to use these skills, and I was very successful in using the techniques I learned."


Developing Leadership Skills

"Helping others to prioritize, being patient, and offering help with challenges has benefited everyone and made our team a stronger one. Starting every day with care, concern and a pleasant word has made me feel like a better person. It does take effort, but I see the benefits every day!"

Diversity

"I have adapted to our diverse workforce, and I have even put my improved skills to work. We work with a Japanese client in our office, and they have different customs. When we went out to visit them a week ago they required that we either take off our shoes or wear booties on our shoes. This did not pose a problem , and it was rather interesting to experience."

Teamwork

"The morning meetings have been the biggest difference. I can really see the office become a team rather than a group working together.

I think this process has brought us closer together as a team and has helped to create some stability. I think it has also helped everyone to share their thoughts and ideas."

Customer Service

"One of our biggest customers has told me that they are impressed with my communication and follow-up skills, and this has let to a happy customer."

Dealing with Stress

"People are not getting so flustered. When they do, they are able to deal with it better."

Goal Setting

"I feel that I have successfully achieved my first goal of removing -can't- from my vocabulary. I feel that I have also achieved my second goal of leading myself first."

Communication

"I have noticed that my co-workers have a calmer tone of voice when talking with each other and with clients. I can now speak to our clients with more self-confidence, and I am able to sell our services much better."

Positive Attitude

"I think the overall attitude in our department is better. I have noticed that staying positive really is contagious. I have managed to avoid several situations going down a negative path by staying positive. I also think the group has started to notice each other's good deeds."

or continue reading...


You couldn't ask for a better employee development training package: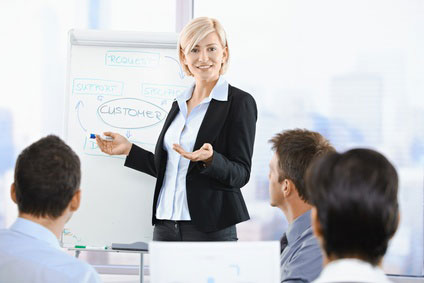 The lessons are

easy

to present
The lessons work even if your staff is scattered in

different locations

, have different skills levels, or need to work at their own pace
The lessons apply in

any industry
The lessons prepare your staff to become

leaders
The lessons are presented in

bite-size

pieces, so even the busiest employees can make time to digest them
The toolkit is

timeless and reusable

, so this one-time investment will absolutely pay off for years to come

The question is, can you afford NOT to have and use this Toolkit?

Listen. If you don't act now to turn your workplace around, you'll just keep losing money down the drain.

Tell me:

... If you paid a trainer to come to your company every four weeks for a year to train your employees in each skill, how much would that cost your company?

... If you did all the research and created your own training program how many months would that take you. and how much would that use of your valuable time cost your company?

... If your employees increase their effectiveness and their productivity by even as little as 5% or 10% how much money would that save your company?

AND...If you don't "grow" the employees you have, how much do you stand to lose in lower productivity?

Most companies are on a tight budget, so you will be happy to learn that the Employee Success Toolkit is very affordable... especially now with our Holiday Special.

Course fee is $497... You pay only one fee for all your employees.

(That's only about $38 per module... That's much less than your employee problems are costing your company)
You get all 13 training modules for about $38 each - a year's worth of training for pennies a day! Plus you get all the bonuses worth hundreds of dollars.



After you click the Add to Cart button below, you may choose either:
• A one-time payment of $497
or choose...
• Our EZ Payment Plan - $137 now - and 3 more monthly payments of $137. ($548 total)


Click the button below!

Click on the big orange button below

, then choose your payment option,
and begin your workplace transformation IMMEDIATELY:

Buy the Employee Success Toolkit and use it for as long as you want. If you are not delighted with the results, we will refund every cent you paid.

You even get to keep all the materials you've downloaded. You have nothing to return. And nothing to lose.

Remember, this is a lifetime 100% money-back guarantee!

You've made the right decision by investing in your professional growth, and your employee's development.
I can't wait to support you in transforming your workplace.

To your success,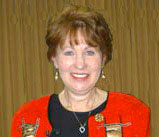 Harriet Meyerson is founder of The Confidence Center. She works with human resource managers, supervisors and business owners who want to develop confident, happy, and loyal employees. She creates training seminars, provides a free Employee Morale Tips newsletter, and offers various tools to help HR managers and entrepreneurs have happier, more productive workplaces.

PS: The longer you wait, the more profits and joy are draining from your workplace. Why wait? Order your Toolkit today and give it a try. Remember, you have my lifetime, unconditional, no-questions-asked, 100% money-back guarantee.


PPS:

Still on the fence? Read more raves about the

Employee Success Toolkit

:

Employees Benefit From More Effective Leaders

I use the Employee Success Toolkit individually. My employees have benefited indirectly a result of their team leader becoming more effective.

Olivia Maupin

Professional, Easy to Pace


The first thing which impressed me was the document to download and use as a cover for the notebook for each person - this gave a professional look to the course.

Obtaining the materials in a sequential manner, rather than all at once, made me read through the materials and paced the distribution and scheduling of the classes.

Bonnie Black
Director
Employee Assistance Services, NY
Helpful and Effective


We purchased the Employee Success Toolkit to use in our employee development training classes. We have a group of 19 staff who are enrolled in the program. The toolkit is used to augment the face-to-face training we provide to them.

Staff find the lessons helpful and the goal-setting for each lesson gives them the impetus to actually establish goals, follow through with them and then reflect on their progress toward those goals.

Each lesson is reviewed by the Employee Development Program Manager with appropriate feedback to the participants and/or their supervisors.

Cynthia Morgan




Learners Are Very Enthusiastic

Thank you!! I love this program. I have a group of 22 "leaders" taking this course and they are very enthusiastic about it.

I send Part A of the lesson in week 1 of the month and the participants have 2 weeks to work on it and send it to me. I then write feedback to each person.

I send Part B of the lesson in week 3 of the month, and again, the participants have 2 weeks to work on it. I send another feedback letter to each person based on their responses to Part B.

This is working very well for us.

Here are a few comments from our participants:

Practicing Leadership Skills

"I have learned, so far, that motivating people requires a nurturing attitude, listening skills and the ability to truly understand people. I believe that I have a good handle on these attributes. The one area I need to work on is having faith others. I do believe in my staff, but I do not voice that enough. Believing in them, even when they don't believe in themselves, and letting them know that I know they can accomplish anything is vital to their success!"

Team Synergy

"Building trust is critical to the development of team synergy. I feel that my improved skills are helping me to build trust with my team members. I have been making a conscious effort to make sure that I stay positive even when faced with difficult situations. I have also been making sure that I am attentive and use active listening skills when listening to my teammate's ideas. I have also been mindful to complete tasks for my team members in the time allotted."

Making an Impact at Meetings

"I am more prepared for meetings. My boss has noticed, and made some comments. I make some notes during the meeting to follow up with whom ever I need to after the meeting. I can get to the point and not have to just hang around and wait. We have a new contact at a company we are working with and the follow up after the meeting has really helped us bond. I get morning emails from her about the small stuff that we were not getting before. To me it is all about the follow up."

Thank you, Harriet, for a wonderful product!!

Rosemary Rulka, M.S., SPHR
Corporate University Director
CBS Personnel Services




Helps Avoid Workplace Issues

I think that the Tools cover a wide range of topics that everyone can benefit from. I use it at my weekly meetings.

Based on the format, we cover Part A at the beginning of the month. I give everyone copies and we go over the notes. They have until the end of that day to return a copy of their goals and the quiz to me.

We do the follow-up in the middle of the month when I give them a copy of the 7 key points. They fill out their 2-week progress report and show it to me so I can see that they are still working on their goals. They hand in their final evaluations to me at the end of the month.

I find that unless you have to address something specific with them, most people are not proactive in setting their own goals regarding their performance.

This toolkit helps them look within themselves to see what they are doing and what they can do to improve - before it becomes an issue. It helps to make them accountable for setting their own goals and to follow up on them.

Darlene
Home and Gifts Collection
Ontario, Canada





Excited!

I am a Team Manager of 25 outstanding reservations agents. One of my goals at the beginning of the year was to find a tool or program to go through with my agents, to teach them leadership or management skills. They use the skills to advance at work or to grow in their personal life.

We will start next week, but since showing the first Tool -communication-, they are all excited about developing themselves and the team bonding possibilities.